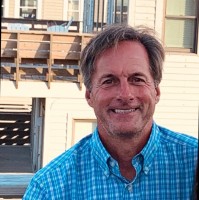 Whit Baldwin
President
Whit Baldwin has 35 years of experience as a helicopter and airplane pilot, accumulating more than 11,000 hours of flight time across the U.S.
Before Whit Baldwin graduated from Mary Washington University, he planned to become a stockbroker. After one week working there, he knew that a desk wasn't the job for him. "I couldn't sit in an office all day," Whit says.
With his entrepreneurial spirit, passion for all things aeronautic, and ability to turn any stranger into a friend, Whit built up multiple businesses providing much needed services to the airline industry, from de-icing planes, to plowing runways, and even cleaning airplanes and toilets.
Then, in 1987, Whit's career life was transformed. He rode in a helicopter with a Korean and Vietnam War veteran and was hooked. Soon after, he pursued his interest in helicopters and worked toward getting his own helicopter pilot license. In 1993, he bought his first helicopter and launched HeloAir.
Now, nearly 30 years later, the business has nine helicopters, 206 BIII's, 206 LIII's, and 407's distributed nationally to meet the needs of The United States Forest Service, Virginia Department of Forestry and utility companies throughout the country. HeloAir has also safely transported hundreds of clients, including author Patricia Cornwell and former Secretary of State Colin Powell, and Whit's work filming the U.S. Capitol for its 150th anniversary was featured on "60 Minutes."
Whit loves what he does every day, and he takes seriously the responsibility of leading HeloAir and taking care of his employees. He also believes in giving back to the community. "I grew up one of four kids with a single schoolteacher mom, and she found ways to give back," Whit says. "God has very much blessed me and I am going to try and pay it forward."
Over the years, HeloAir has supported the VCU Massey Cancer Center, American Red Cross, FeedMore, Christo Rey, and more. In 2005, HeloAir received the Richmond Chamber of Commerce Impact Award, which identifies the small business that gives back the most to the community. Whit is also the immediate past Chairman of the board for Comfort Zone Camp.
When not busy with HeloAir, Whit stays active running, swimming, golfing and playing tennis. He is at his happiest spending time with his daughter and cheering her on at volleyball games.